Tri-County Aquatics continually makes investments in top of the line equipment as well as training and education for our state certified/licensed service technicians so we can continually offer the most effective and efficient management programs to our customers. The equipment that we utilize allows for greater access to marsh areas, swamps, lakes, ponds, and anywhere else that invasive vegetation needs to be controlled. This specialized equipment allows for high levels of success with eradication and management of invasive plants.
Marsh Master MM2
The Marsh Master MM2 is a completely amphibious vehicle that allows access to a variety of locations with the wettest conditions: swamps, marshes, remote lakes, retention/detention ponds, ditch lines and more. Being a tracked vehicle, the weight of the machine is dispersed over the span of the tracks, putting less than 3 psi to the ground, eliminating or reducing possible damage to sensitive areas where other equipment may cause harm. Our MM2 is also equipped with a mechanical spray system that utilizes boom-less nozzles that allow for an effective spray swath up to 32 feet wide, a hydraulic mower that is capable of cutting vegetation up to 2 inches in diameter and a roller chopper that effectively and efficiently smashes and chops stands of vegetation, increasing the speed of decomposition and potentially reducing fire hazards. This machine is also equipped with an on-board GPS system for effective mapping and reporting of the work being performed.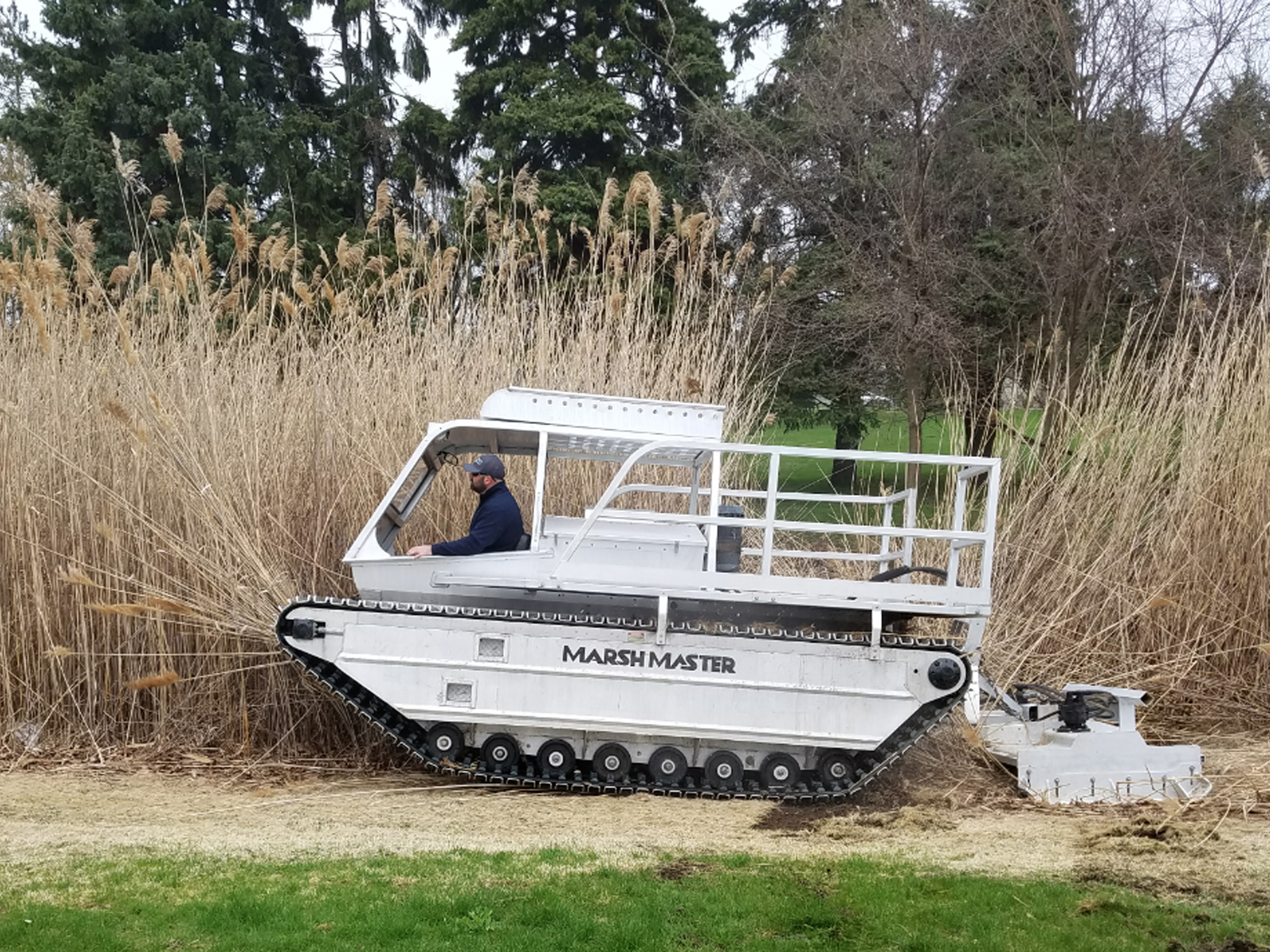 Argo XTI 8 x 8 Amphibious Vehicle
The Argo XTI is an amphibious vehicle that we use for spraying invasive vegetation, as a material support transport vehicle when working in remote areas with other equipment, or as a personnel hauler. This vehicle is much smaller than our Marsh Master MM2 and allows for access to more confined areas where our larger equipment just can't go. Having the ability to haul over 1,000 pounds of material, on land and in water, we utilize the Argo with portable sprayers (as pictured) to access various locations. 
Diamondback Airboat
Our Airboat, or fan-boat, is another vital piece of equipment when it comes to accessing locations where a traditional boat will not go. Our Airboat is outfitted with a custom built spray system that allows us to perform treatments in a variety of aquatic settings. Whether we are spraying Lily Pads, submersed or emergent vegetation, this boat and custom spray system gives us the advantage over the competition to access hard to reach locations.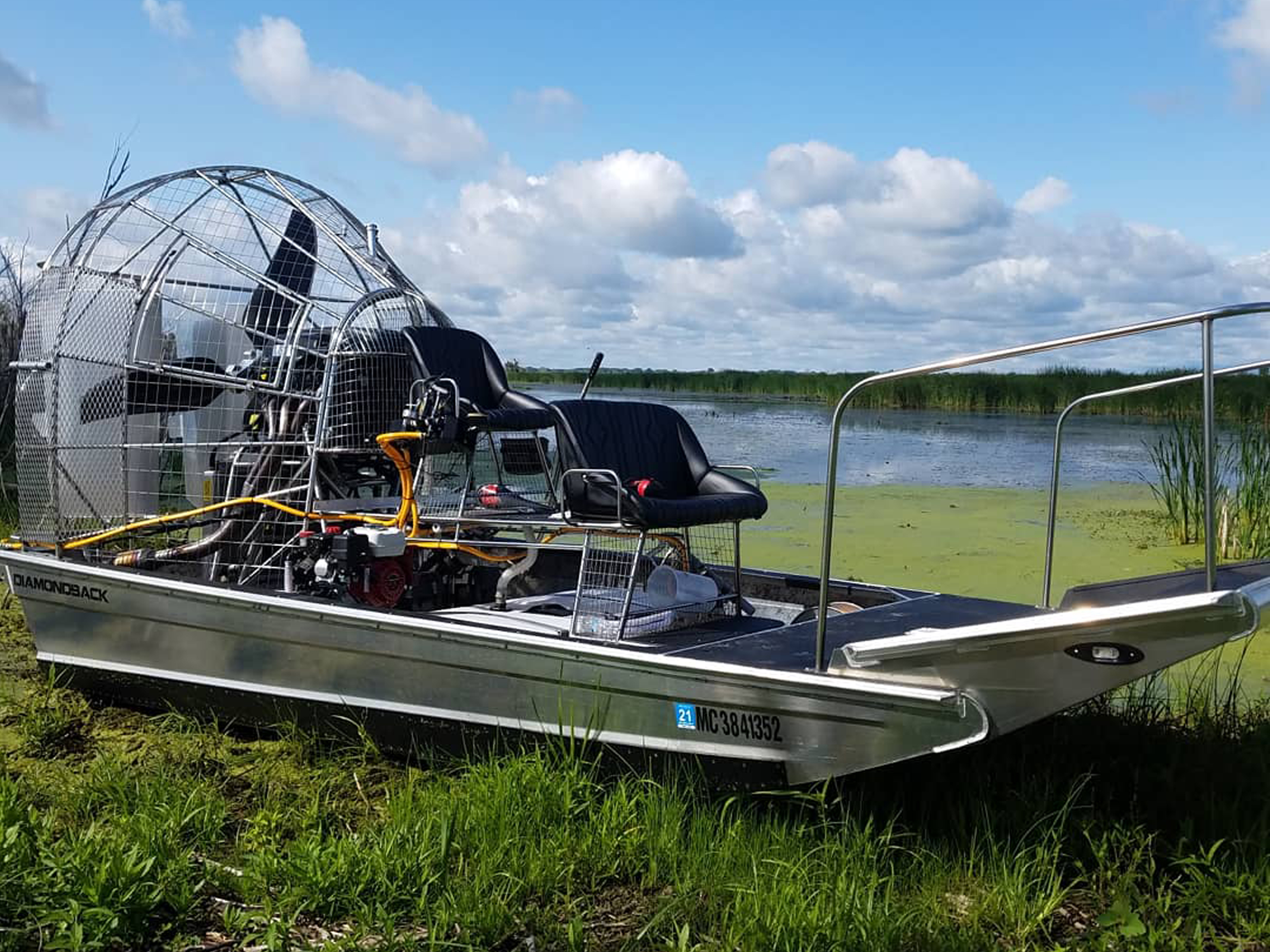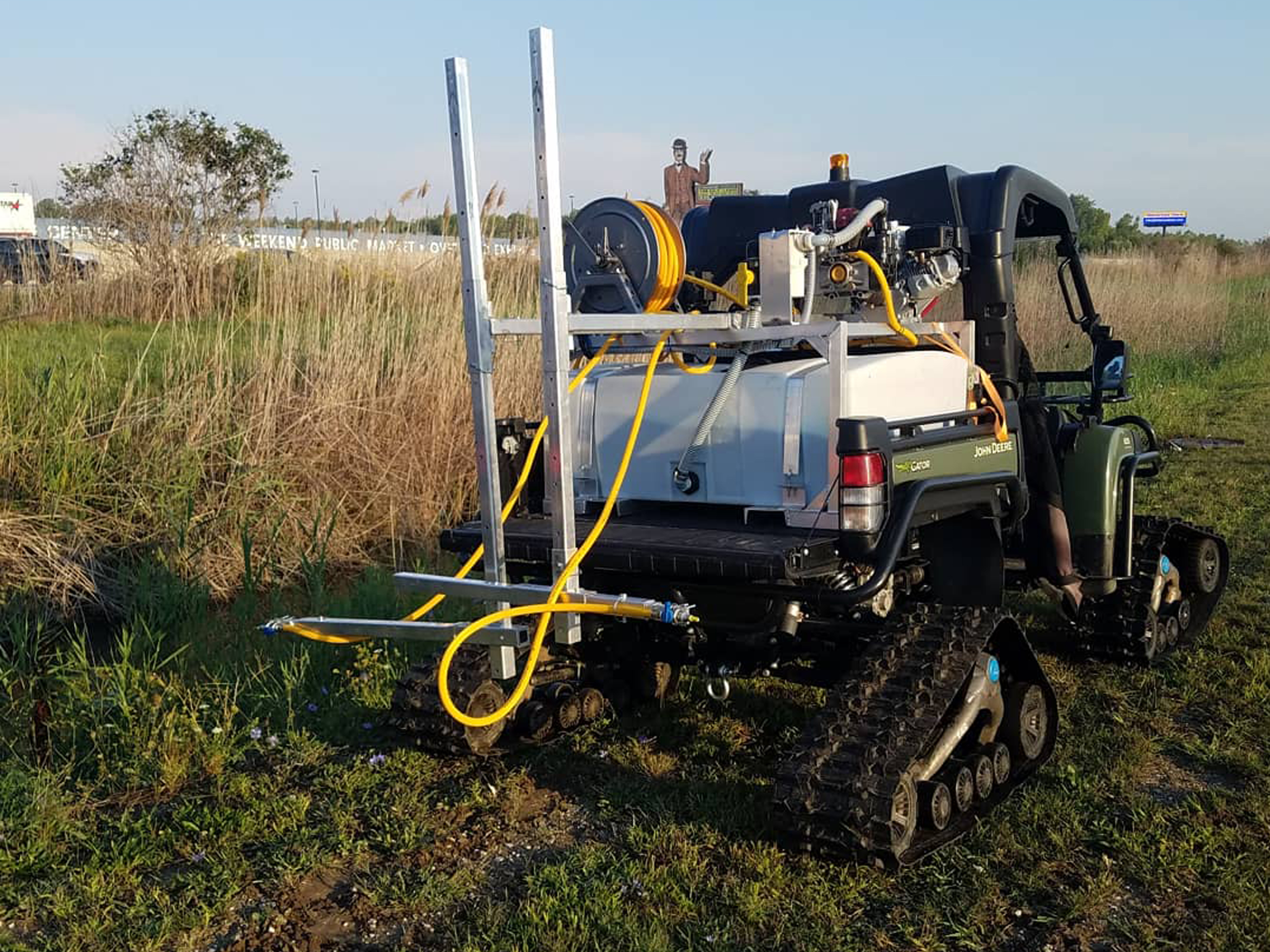 John Deere Gator
The Gator is another of piece vital equipment in our toolbox. The Gator allows for more effective treatments while implementing our management programs. Our Gator has undergone some slight modifications that allow access to sensitive areas while leaving a minimal footprint. Equipped with a custom spray system with boom-less nozzles and adjustable spray booms, this machine gives us the ability to cover a 25 ft. swath to effectively spray target vegetation. Equipped with an on-board GPS tracking system, we can also provide accurate treatment maps that show acreage covered and amount of product used for the sites that we are spraying. Road ditches, shorelines, or Right-of-Way settings are perfect areas for this machine to be used. 
Carolina Skiff Spray Boats
Our skiff boats are utilized on a daily basis to perform our lake and larger pond treatments. Our skiffs are equipped with custom-built spray systems that create efficient and effective treatments. Utilizing custom made trailers we can easily access most sites with little-to-no negative impact on the surrounding landscape. These boats are also used for the installation of larger floating fountains and aeration systems. These boats are light, stable and an important tool for the services we provide.