Tri-County Aquatics is a full service pond, lake and land management company, serving all of Michigan. Specializing in superior pest management programs for our client's needs. We develop specific management programs to control nuisance aquatic vegetation, weeds and algae, non-native invasive weeds as well as terrestrial vegetation that is found in a variety of settings. Maintaining properties from small backyard farm ponds, inland lakes, canals, marinas, wetlands & marshes as well as road and trail right-of-ways. Tri-County Aquatics' goal is to create an effective management program designed to your specific needs.
We are licensed through the Michigan Department of Agriculture and fully insured and bonded. All of our employees are certified through the state of Michigan and have many years of experience in the pest management industry. With over 20 plus years of industry experience we have the knowledge, expertise, and proven solutions to obtain your management goals.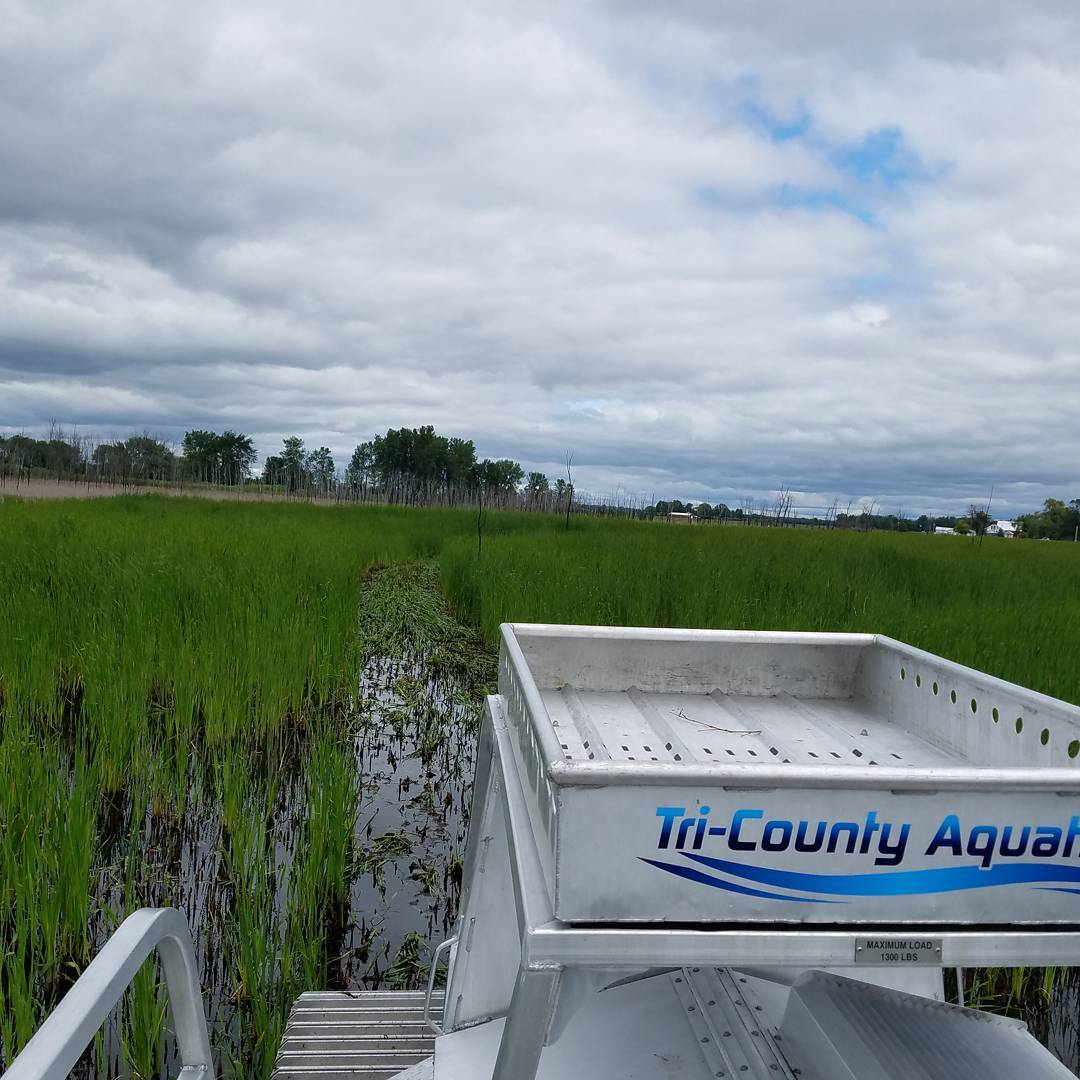 Tri-County Aquatics™ services include, but are not limited to:
Tri-County Aquatics offers multiple management options, individually customized to each clients specific needs pertaining to the control of nuisance aquatic vegetation in lakes, farm ponds, retention/detention ponds, canals, marinas and many other waterways.
Tri-County Aquatics has been selling, installing, servicing and using water aeration as a management tool for many years.
Floating fountains are a great addition to any waterway. They are aesthetically appealing and are a great source of water aeration.
We have the ability to access wet or soft soil areas, such as ditch lines, retention & detention ponds and wetland or marsh areas, with little ground disruption to control excessive vegetation.
Tri-County Aquatics is on the forefront of successful integration of effective vegetation management programs. We consistently work directly with entities that range from private landowners, land managers, local municipalities and state agencies to control invasive vegetation.
Using drone technology we are able to get a bird's eye view of treatment sites. This aids in properly identifying target plant species, which creates an accurate assessment for the proper control of nuisance vegetation.
Tri-County Aquatics not only offers waterway management solutions, but also a wide range of equipment management services. This includes sales, installation, removal, summer and winter maintenance programs, cleaning, storage and full service repairs.
Tri-County Aquatics continually makes investments in top of the line equipment, training and education. This enables us to consistently offer the most effective and efficient management programs to our customers.